Query Result for : pool outdoor shower
---
Taking a shower outdoor can now be more fun with the PalmShower Shower Spray. As its name suggests, the PalmShower designed to look like palm trees that we see in tropical islands and beaches.
Bathing is probably the most favorite part of our kids. When they were infants we normally bought them some baby tub. And when their toddlers already, we already bought them tubs. However, tubs are a bit expensive. Inspired by the situation with a desire to save some small amount of money, Bibabath is created with a feature that will allow you to transform you shower into a baby bath. Though it may sound expensive at the price of $185.00 with the looks and concept it has, this is a bit cheaper compared to having a bath fitted. In addition, the Bibabath can also be used as an outdoor paddling pool. – via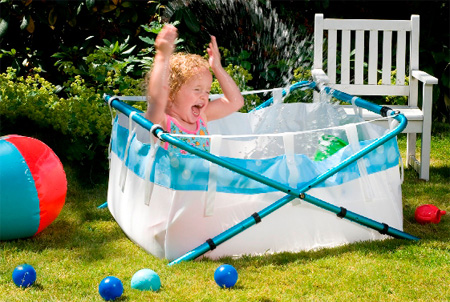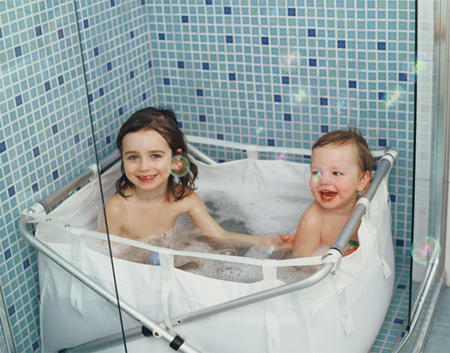 Do you have a pool or garden ? This outdoor wooden spa is a great addition next to your pool. A classic tub with a couple of tubs which you can choose to have hot or cold water, there is an optional heating pump that you can install to avoid lines from freezing in cold conditions. With price tag $19,750, this luxury spa is perfect for your luxury house.
Beautiful and unique outdoor ground shower from Viteo can make you feel a new sensation while bathing. Danny Venlet, the designer has created a clear and functional design, ideal for garden or around the pool. This shower is an ideal way of cooling down in summer, just step up into the Viteo shower, your body weight sets off shower jets arranged in a circle around the edge of the foot panel. The jets first gush up and meet in the middle over your head before falling gently down like rain. To dispel the cloud and let the sun shine through once more you simply step off the foot panel.
From : Viteo
Love the idea of outdoor shower ? This wicker outdoor shower from Horchow might give you organic style. You can place it in your garden, create a fun and natural style. Feel the sensation of showering outside after a dip in the pool. This shower installation is easy, all you need to do is hook it up to an ordinary garden hose for fuss-free installation and portability. This shower also features an integrated shower rack accessory, plant-form towel rack that definitely be appreciated by your guests. Perfect for summer shower !
From : Horchow