Storage is an important part in every office or even at home. Kristian from Australia has created a storage module called the Shelve-Me, which is perfect for any office supplies or accessories. It is made of welded aluminum that made the shelf sturdy yet portable enough to move from one place to another, non-woven PET and the shelves are made from formed aluminum. Because of the sleek design of the shelve-me, I must say that the shelve-me storage module will not only keep your place organize but rather adds up the beauty of the area. As an office storage module, it find it suitable for home use as well. -via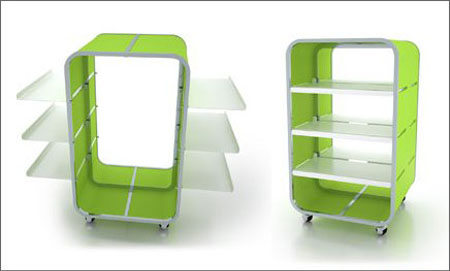 Advertisement
Related Tags :
Comment
|
Posted in :
Home and Decoration
Related Posts You Might Be Interested to Read:
Fold Shelf From Gilbert13 Stylish bookshelf comes out in the market every now and then. Currently, UK designers Angela and Mark Gilbert who are both from Gilbert13 Studio have designed a wonderful shelf called Fold Shelf. I...
Winea Format, An Office Partitioning System Design from Wini Working needs some concentration and peace of mind in order to come up with a great and effective idea. To give us the comfort and concentration that we need, German manufacturer Wini with the help...
Three Two Bookshelf: A Stylish Stackable Shelf We all want our bookshelves to not only capable of holding our small items at home but also to play part of our interior design. The Three Two Bookshelf by Jakob and MacFarlene will provide you wit...