When we hear sunny-side-up, the breakfast thing is definitely what comes to our minds first. Would you like your sunny-side-up egg on the floor? Definitely not! But not this stylish rug by Valentina Audrito. This playful and eye-catching rug mimics the look of a cooked sunny-side-up egg that you normally had for your breakfast. It also has the yoke and white just like your real sunny-side-up. The yolks on the rug can surely work as your pillows if you opt to lie down to relax while watching TV, reading books, or listening to your favorite music. This rug will not only keep you warm and clean but also, it definitely will create a playful and unique ambiance. -via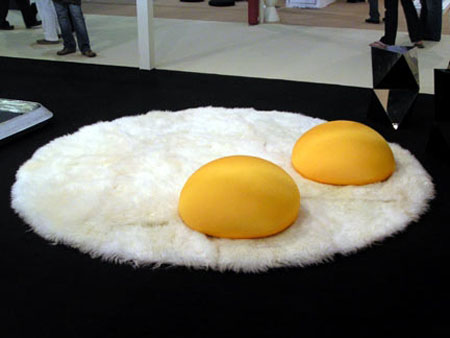 From: Valentina Audrito
Advertisement
Related Tags :
ambiance
,
Definitely
,
egg
,
favorite music
,
look
,
music
,
pillows
,
reading
,
reading books
,
rug
,
sunny side
,
valentina
,
watching tv
,
yoke
,
yolks
1 Comment
|
Posted in :
Home and Decoration
,
Misc
Related Posts You Might Be Interested to Read:
Robox: Your Robot In Your Library Parents especially those who have boys kids at home that loves robots will definitely find the ROBOX interesting. Looking at its photo, the ROBOX is complete with the robot parts from head to toe. ...
Capitonage Bedroom Collection: Blue Can Be Happy Who said that blue is a symbol of loneliness? The people from Sarit Shani Hay Design will surely change your perception with the color blue. In their Capitonage Bedroom Collection, you will definit...
Ceramic Flower Pot: The Elegant Way To Showcase Your Plants Installing ceramic-made items is definitely a sure fire way to have an elegant home that you desire. You can opt to have ceramic dinnerware, vases, and the like. The Ceramic Flower Pot will surely ...